When you join TWO MEN AND A TRUCK as a franchisee, you're tapping into a network of support that is engineered to guide new franchisees on a path to success. With a diverse franchising network already in place, you have direct access to peers who have found success and best practices in this industry over the years.
The help doesn't stop there. With a dedicated Canadian Home Office support team in Toronto, Ontario, and more than 180 talented individuals at our Support Centre in Lansing, Mich., you have subject matter support teams for virtually every field of the business – including marketing, accounting, sales, IT, human resources, compliance, and more – right at your fingertips. These teams are put in place and designed to answer any questions you might have and to help you succeed as a franchisee. This starts as soon as your agreement is signed with direct support from our First and Second Gear start-up teams. From day one through your first few years in business, they're your go-to teams with questions and support.
Our Home Office teams continues to work closely with our franchisee partners and customers to keep TWO MEN AND A TRUCK highly competitive and continue our upward growth trend. This consistency is paying off with TWO MEN AND A TRUCK's  Canadian Franchise Association awards, including the Award of Excellence, and Franchisee's Choice Awards for 12 consecutive years.
INNOVATION IN THE MOVING INDUSTRY
To continue the TWO MEN AND A TRUCK growth trend, innovation and technology in the industry is a must. As a brand, we continue to research and invest in what can be done to make serving our customers an even better and efficient experience. Additionally, several other innovative technologies stand out in our system, including our own, TWO MEN AND A TRUCK developed estimating system, which our CSRs use when creating customer estimates and booking moves. This technology, paired with mobile tablets for our movers and drivers, ensure customers have a fantastic experience from start to finish.
Additional Service offerings
Through new services such as Value Flex®, an affordable and alternative long-distance moving option from our expedited long-distance service, and portable storage, we continue to expand our offerings to fit our customers' moving and storage needs
Customer experience at the forefront
TWO MEN AND A TRUCK continues to make the customer experience a top priority by allowing customers to communicate with our Customer Service Representatives using their preferred communication method. They can receive an estimate through multiple different channels and at a time that is convenient for them. Options for receiving estimates include over the phone, online, via text, or through chat. Customers can also manage their move details through our very own customer portal- movetrac®.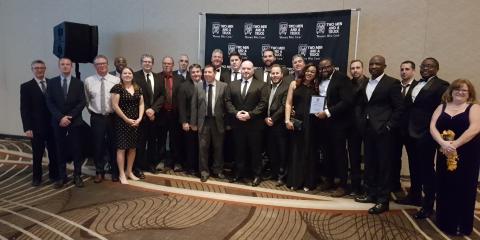 IDEAL RELATIONSHIP
At TWO MEN AND A TRUCK, we value our relationship with all system franchisees. The franchisee-franchisor alliance is viewed as a combination for success. We work together to ensure the ongoing success of all franchises for the benefit of the entire system.
This positive working relationship shows in our annual Canadian Franchise Association awards, winning both the Award of Excellence, and Franchisee's Choice Awards for 12 consecutive years.
We look for hard-working, motivated individuals that are passionate for providing top-notch customer service and committed to working closely with their community – moving experience not required! In fact, many of our franchisees come from diverse backgrounds but have one thing in common: they believe in the brand and are committed to giving back to their community through consistent charitable efforts.
TRAINING TO KEEP YOU UP-TO-SPEED
We know franchise teams can learn from both corporate subject matter experts as well as successful peers. TWO MEN AND A TRUCK has developed several training opportunities for franchisees and their teams such as an annual company meeting and awards gala, classroom-style training classes, online-based training programs, and real-time training webinars. Many of these opportunities feature segments where you can hear from franchisees to learn best practices directly from the TWO MEN AND A TRUCK system. Additionally, when you join the system as a new franchisee, you'll join other new franchisees at the corporate office to attend a week-long class, Gearing Up, so you can learn the ins and outs of building your successful business. Additionally, as you get to work, you'll have support teams in all aspects of the business including sales, marketing, accounting/bookkeeping, human resources, and IT.
Classroom-style training classes

MORE THAN 180 Subject Matter Experts in Canada and the United States
Subject matter experts within the Canadian Home Office and Michigan Support Centre, are specially trained to support our franchise network in all areas including operations, training, human resources, accounting, marketing, sales, and information technology.

No worries at all if you aren't versed in specialized tasks such as QuickBooks or sales processes, our experts can lend a hand and ensure you have the proper training and support to succeed in all areas of the business.