At TWO MEN AND A TRUCK®, we've made it our mission to help people – whether that be through our world-class moving services, or giving back through community service.
For over 35 years, we've been able to not only work with community outreach programs, but also develop community service programs of our own. Our founder, Mary Ellen Sheets, put an emphasis on giving back to the communities we operate in, and it helped to build the foundation of our brand since the very beginning.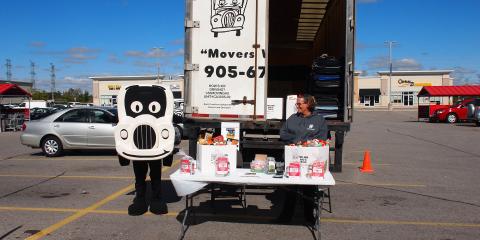 MIKEY ON BOARD

MOVERS FOR MOMS®

MOVERS FOR MEALS®

TRUCKLOAD OF WARMTH®
Franchisees at all of our franchise locations have embraced community outreach programs, and over the years, have partnered with a variety of local and national charities, including Toy Mountain, The Canadian Red Cross, The Shoebox Project, and many more. Working with charities of all levels and staying involved with community involvement programs allow us to build stronger relationships within the communities where we live and work.
Our charitable work doesn't stop there. Along with partnering with various organizations, TWO MEN AND A TRUCK has charitable campaigns of our very own – Mikey On Board, Movers for Moms®, Movers for Meals®, Movers for Mutts®, and Truckload of Warmth®, are all branded, easy to launch initiatives. Each of these programs serves a different purpose and allows our franchises a chance to work together and make a difference in the lives of those who need it most!