TWO MEN AND A TRUCK has come a long way with franchising our brand and it's always been a priority to provide our franchisees with as many opportunities as possible to achieve success.
As a TWO MEN AND A TRUCK® franchisee, our wide-range of services creates various revenue streams for your franchise location to become successfully profitable. By providing a diversification of services, customers can approach us with almost any moving need, helping us remain more accessible than ever.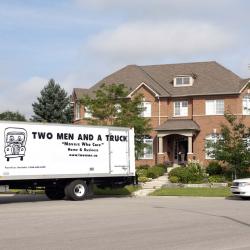 Home Moving
This is what initially built the TWO MEN AND A TRUCK brand more than 35 years ago. Whether it's home, apartment, condo, in-home, or long-distance moving – we can do it all. We've earned a reputation as leaders in the moving industry with a 96% referral rate, and these traditional moving options keep it going strong.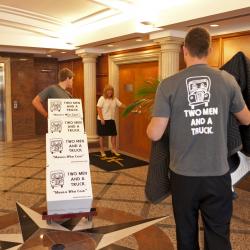 Business Moving
Businesses who need moving and storage services trust us to do their heavy lifting, whether they're moving floors or entire office locations. We'll work around schedules to reduce downtime and interruption, often completing business moves after hours or on weekends.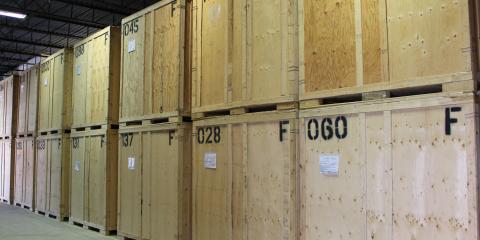 Storage Options
Moving and storage go hand-in-hand, so many of our locations offer on-site, climate controlled storage options for their customers. This makes the entire moving process easier and more convenient for the customer as the ability to book both services at once is available.

On-site storage facilities
On-site storage facilities
Time is often a major factor in the world of moving, and having a place to temporarily keep belongings can be a major selling point to our customers. Our climate-controlled, on-site storage facilities provide customers this option and can cut out the hassle of our customers having to work with separate moving and storage companies.

Mobile storage
Storage space is at a premium, and with our mobile storage services, we give customers the flexibility of affordable storage that can be brought directly to them. Delivered in our storage containers or crates to a location of their choosing, they are given the option of keeping items stored for as little or as long as they would like.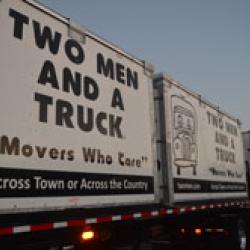 Value Flex® Long-distance moving
Arguably the most difficult move is a long-distance one, and it can often cost customers a fortune. Thanks to the development of our Value Flex® program, we now offer long-distance relocation for those on a budget and with a flexible timeline. Combining lower-cost logistics with the customer service we are known for makes this an attractive option for customers looking to relocate anywhere across the country.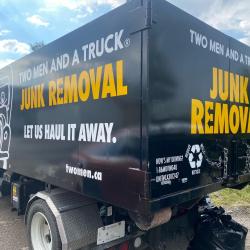 Junk Removal Service
New to the TWO MEN AND A TRUCK brand, our professionally-trained moving teams are now capable of assisting customers with junk removal! Furniture disposal, garage cleaning, home renovations, estate cleaning, business cleaning, and more. With specialized junk removal trucks, this is an exciting new option for our brand.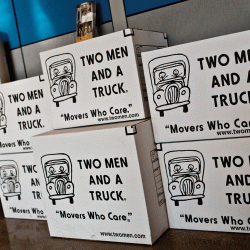 Packing services and supplies
TWO MEN AND A TRUCK locations offer packing and unpacking services to customer who want an all-inclusive moving experience. Packing services are charged hourly for a crew and alleviate the hassle for customers who are unable to pack themselves.  Franchises also carry a full-line of packing supplies and moving boxes at their locations for customers to order or to walk in and purchase.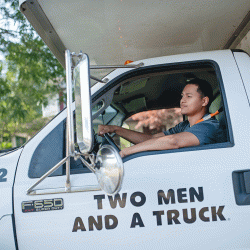 Delivery Services
Our professional moving teams can assist customers who have recently purchased large items such as furniture or appliances by picking up the items and delivering directly to the customer's home.