One of the perks of owning a TWO MEN AND A TRUCK® franchise are the vast revenue streams the business provides. Adding to our services is the new TWO MEN AND A TRUCK junk removal business. This provides customers another service to book with the TWO MEN AND A TRUCK team, where they can use us before or after a move anytime they need a single piece of furniture to several items from an entire room, home, or business disposed of.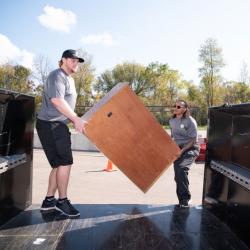 How it works
Our professionally-trained movers can transition easily to this new service option, and our junk removal trucks – separate from our traditional home moving trucks – are able to provide junk removal for home or business customers.
This additional revenue stream ties in perfectly to the moving and storage business we already have in place, providing a much-needed service to those who are in need of junk removal and disposal. Even better, this service can help offset the seasonality issues that can come with moving seasons, allowing you to continue bringing in revenue all year long.
Our junk removal franchise and service addition is ideal for home renovations, preparing for an upcoming move, decluttering or downsizing a home, estate cleaning, basement cleanouts, furniture disposal, garage cleaning, and business cleaning.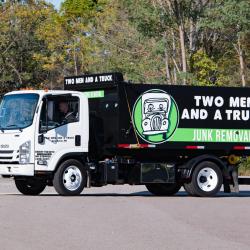 The investment
The principal investment in adding junk removal services to the business model is the purchase of the truck and a junk container, which is approximately $100,000.   Franchisees will use the same staff to operate this service.  Our junk removal team will consult you on the best options for your business to make sure your investment is one that is worthwhile.